Pre-compressed, expansive, resistant to driving rain, permanently elastic and ecologically beneficial
Die zuverlässige dauerelastische Fugenabdichtung
Die Fuge ist ein unvermeidlicher und fest eingeplanter Bestandteil jedes Bauwerkes. Die Bauteile unterliegen häufig starken Temperatur- und Feuchtigkeitsschwankun­gen und es kommt zu Ausdehnungen, die das Mauerwerk nicht abfangen kann. Außerdem sind die Bauteile Erschütterungen und anderen Belastungen wie z.B. UV-Strahlung, Wind und Regen ausgesetzt. VITO Fugenbänder erfüllen die Anfor­derungen, die an eine sichere Fugenabdichtung gestellt werden. Ihre
Dauerelas­tizität gleicht temperaturbedingte Bewegungen der Bauteile sowie bauliche und materialbedingte Toleranzen aus.
Produktmerkmale
VITO Fugenband BGl: Entspricht DIN 18542:2009 Beanspruchungsgruppe 1; Brandverhalten B 1 (nach DIN EN 13501 ), zugelassen durch das Deutsche Institut für Bautechnik (DIBt), Zulassungs-Nr. Z-56.212-3505
VITO Fugenband BG2: Entspricht DIN 18542:2009 Beanspruchungsgruppe 2; Brandverhalten B2 (nach DIN EN 13501 ), Allgemeines bauaufsichtliches Prüf­zeugnis erteilt durch das MPA Bau Hannover, Prüfzeugnis-Nr. P – NDS04 – 285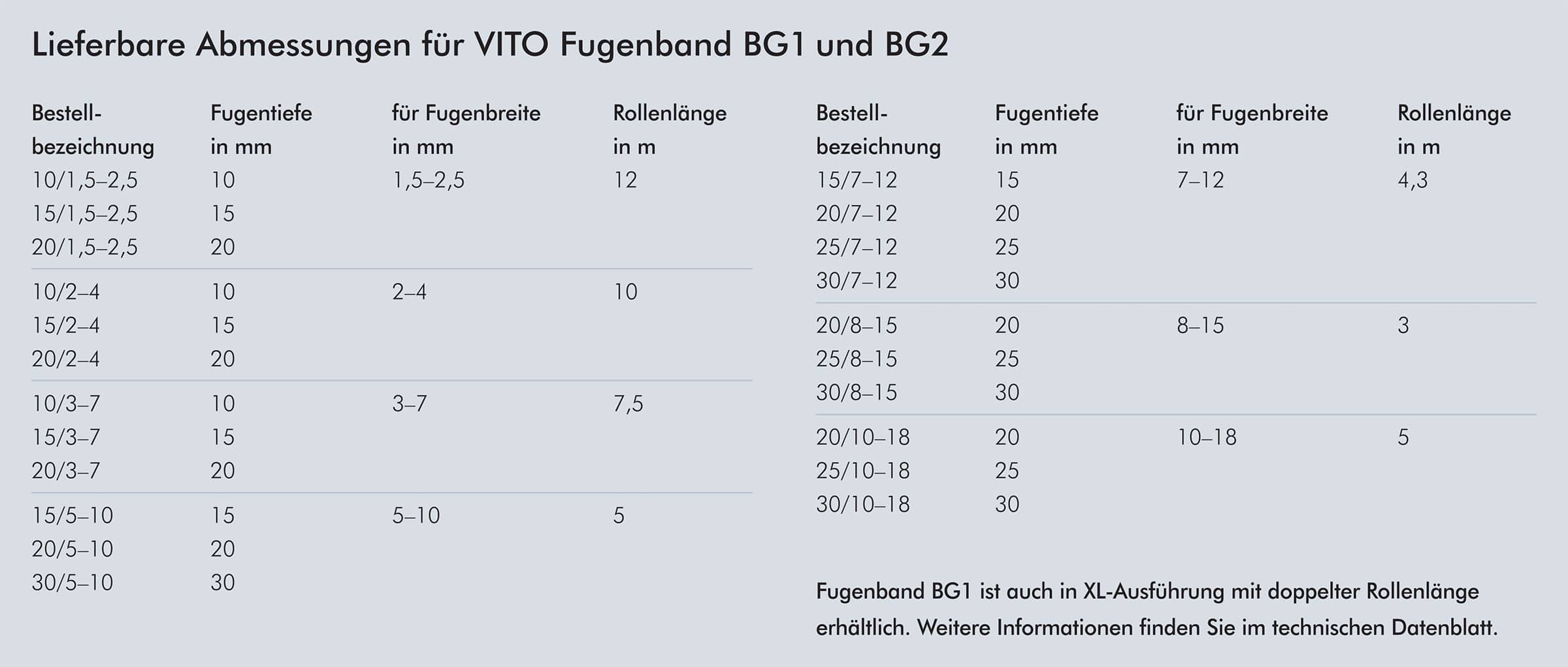 Das Dichtungsband für die sichere Fugenabdichtung nach DIN 18542:2009, Beanspruchungsgruppen l und 2
You cannot find the right product?
Would you like a different thickness, width or even cutting dies?
Do you need a special adhesive for your application?
Would you like to have your own company branding?
We manufacture individual solutions, depending on the quantity.
Uncomplicated and perfectly designed for your use.
Talk to us!