We are a member of professional associations

Afera is the European Adhesive Tape Association, a non-profit trade organisation that represents the interests of the best companies within the adhesive tape value chain. Our members include manufacturers, suppliers of raw materials, machinery and packaging, converters (special non-graphic die-cutting machines), distributors, European national adhesive tape organisations and related institutions and universities.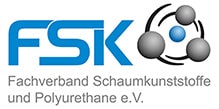 The FSK represents the interests of the foam plastics and plastics processing industry. In a network of European and national organisations it influences political decisions and regulations and informs its members about current initiatives. Through its participation in standardisation committees, it contributes to the development of standards and test procedures.

For more than 70 years the Adhesives Industry Association has represented the technical and economic-political interests of the German adhesives industry. Founded in 1946, the Adhesives Industry Association is today considered the largest and, with regard to its service portfolio, also the world's leading national association in the field of bonding technology.